This post is courtesy of a great member of the Mishawaka Wrestling Family – Brenda Eby! Thanks for sharing your tried and true methods with all the wrestlers and families out there.
"I want to share a few hygiene and mom tricks for the upcoming months for ALL wrestlers – High School, Junior High, Elementary, and Club. Amazon links are at the bottom of the article. You may also notice I buy a lot of off brand products at Dollar General and Kroger.

First off, hygiene is very important to prevent spreading skin infections such as Ringworm, Staphylococcus, MRSA, Herpes, or Impetigo. Check your child weekly. Have them in their under garments and do a head to toe skin check. If you notice a skin spot, get it checked out by a medical professional such as your family doctor ASAP. Sometimes ringworm can also look like eczema or dry skin. You need to get the proper ointment for the correct skin infection. It is important to do your part not to spread skin infections and to bathe after wrestling ASAP to prevent these infections."
Wrestling Hygiene Tricks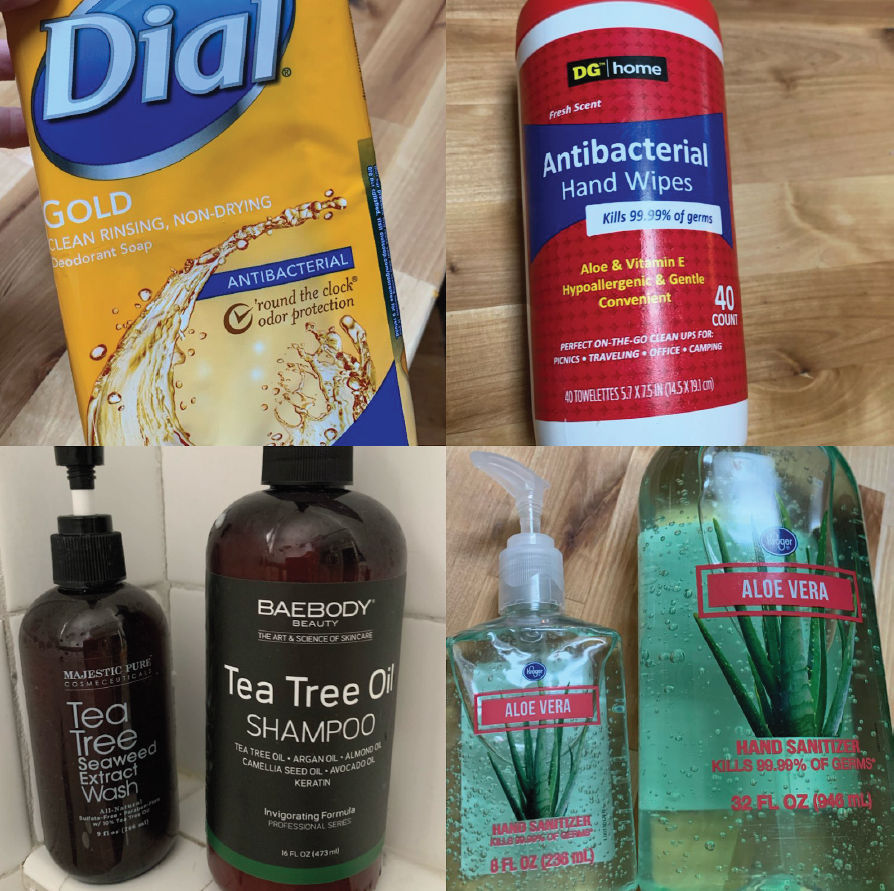 Soap – it's all what brand you use. You need an antibacterial soap. Defense, a wrestling soap brand is great, however a staple in my household is GOLD Dial Antibacterial. It's great and way cheaper than Defense. You can also use liquid Dial Gold. Only use your hands, no wash cloths. Work head to toe, feet being last. Another option is Tea Tree oil Shampoo and body wash off of Amazon. BAEBODY and MAJESTIC PURE 3rd year in a row buying those brands. I have the kids use the Gold Dial and the Tea Tree shampoo and conditioners. When not in wrestling season, we use OLAY, but it is not antibacterial. Also, be aware antibacterial soap can dry skin out.
Detergents – Use what you usually like to use, but add plain old White Vinegar to the stinky stuff and towels. Adding vinegar stinks when you first put it in your wash, but when your stuff comes out, the vinegar smell is gone and the funk smell is down. I have wanted to buy the Lysol wash, but never personally bought it before. I hear it's good, too. It's on my "to buy" list.
Timing is Everything – Please, please, please have your child walk in the front door and go straight to the shower. Do not let them sit in their bed, on sheets, or touch the couch. The germs can get off of them and transfer to your furniture and clothing similar to a poison ivy oil – whatever it touches stays and hangs out.
Defense Antibacterial Wipes – Great for throwing into your wrestler's gear bag to use after a match when you have to travel an hour or more home. They have off brand antibacterial wipes at Kroger, too. They are similar. You can also bring a bottle of antibacterial hand sanitizer and put it on. I do have Defense wipes in my "to buy" Amazon cart right now, as well.
Ziploc Gallon Bags – Clean singlets should go in them and tossed into the front pocket of a gear bag/backpack so you know they remain clean and you know where the singlet is. Any clean item of clothing for later, put in a Ziploc bag. We will get to why next.
Wash Your Wrestling Bag – This is especially true for High School boys who put their dirty, sweaty clothes back in their bag with the stinky shoes. (Reminds me…I need to wash 3 wrestling bags)
Keep Clean Clothes Away From Dirty Clothes
Cover the Stench – Add Bounce fabric softener to stinky wrestling shoes or bags. Alternatively, add Scentsy air fresheners to bags.
That Goes for the Wrestlers, too – Have anyone over age 11 wear deodorant. Some teenagers carry deodorant in their bag. I have also found the Degree deodorant wipes to add to the deodorant they already have on. Wipes are amazing. They also have Dude Wipes. Very similar products.
Toiletry Bag – This has been my lifesaver. Many people eye my bag when I get it out, so I will share. I have had many different containers that carried my stuff, but this toiletry bag I have been using since 2017 is amazing. Toiletry bag? Med kit? Well, it has all the necessities. The stuff you tend to forget, but if it's all in one place, makes it great to throw in the wrestling bag for the tournament.

Band-Aids (various sizes)
Neosporin travel
Triple antibiotic
Eye drops
Allergy meds
Children's Tylenol
Children's Ibuprofen
Adult Tylenol
Adult Ibuprofen
Wet Wipes
Scissors
Nail clippers
Cough Drops
Carmex/Lip balm
Large Knee bandages
Gauze
Athletic tape (not pictured)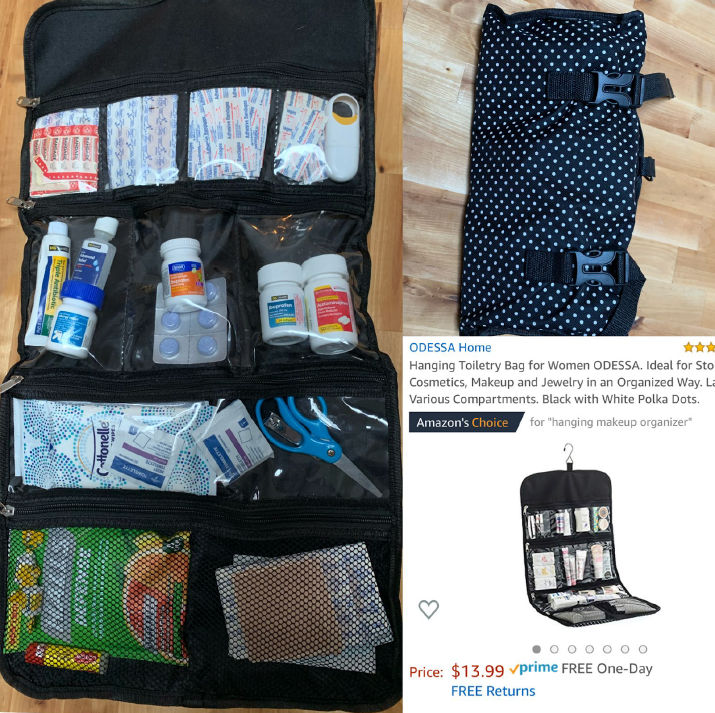 I can't stress enough the importance of hygiene. When one person gets an infection, it can spread through the wrestling team fast due to the nature of skin contact in the sport. I hope I gave you some stuff to think about and to follow to help your wrestler remain healthy this season. I am always looking for more tips and tricks. What works for your wrestler? Feel free to comment below so we can all add to our bags of tricks.
Links to Products Mentioned in the Article:
Hanging Toiletry Bag for Women ODESSA. Ideal for Storing Cosmetics, Makeup and Jewelry in an Organized Way. Large Size, Various Compartments. Black with White Polka Dots.
Defense Soap 4 Ounce Bar (Pack of 2) – 100% Natural and Herbal Pharmaceutical Grade Tea Tree Oil
Defense Soap Body Wash Shower Gel 12 Oz (Pack of 2) – Natural Tea Tree Oil
Defense Soap Body Wipes 40 Count (Pack of 2) – 100% Natural and Pure Pharmaceutical Grade Tea Tree Oil and Eucalyptus Oil Helps Wash Away Ringworm, Jock Itch, Dry Skin, Dandruff, Acne, Psoriasis
Lysol Laundry Sanitizer Additive, Crisp Linen, 90oz
Baebody Tea Tree Oil Shampoo for Dandruff, Dry Hair & Itchy Scalp, 16 Ounces
Antifungal Tea Tree Body Wash, All Natural Soap for Men and Women with Tea Tree Oil, Helps Nail Fungus, Athletes Foot, Ringworms, Jock Itch, Acne, Eczema & Body Odor, 9 fl. oz
Germ-X Advanced Hand Sanitizer, Aloe, Pump Bottle, 33.80 Fluid Ounce (Pack of 4)